Gordon and Fernando 'the transformers' get their act on the road
Historic Imus town in Cavite province was right at the center of the old Philippine revolution against Spain. It was here that the Philippine flag was first seen waving in the thick of battle.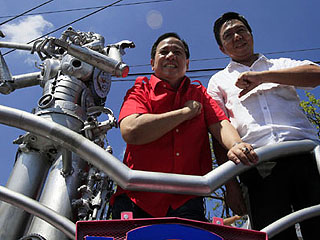 Now, two politician-administrators who pride themselves as "modernizers" have chosen this same town to launch their campaign to win the Philippines' top two posts in the coming May elections, and apply to the entire country what they say they achieved in Olongapo City and Marikina City, respectively.
At their proclamation rally in Imus on Tuesday, Bagumbayan standard bearer Sen. Richard Gordon and his running mate Bayani Fernando vowed to take their "Transformers" image seriously, and improve the education system and provide modernization to ensure progress for the country.
'Infrastructure czar'
Addressing the question of the Sangley Point port facility, Gordon wisely chose to focus on his now-familiar theme of taking a seemingly hopeless case and turning it into a success story.
He said among the first thing he would rehabilitate in Cavite once elected was Sangley Point, and modernize it into a container port. Projects like this, he said, would generate jobs for the people.
Gordon has repeatedly claimed that among his biggest achievements so far was the conversion of the huge Subic Bay Naval Base, a huge US naval facility adjacent to Olongapo City, into the Subic Bay Freeport under the Subic Bay Metropolitan Authority.
Sangley Point, a former US naval base in Cavite, was turned over much earlier to the Philippine government in 1971 but quickly deteriorated thereafter.
In that regard, Gordon said he would appoint Fernando, former chairman of the Metropolitan Manila Development Authority, as "infrastructure czar" that would oversee all the government projects for modernization, including railways and roads.
Fernando, an engineer by profession, stressed the need to provide modernization in the country, which would include construction of roads, schools, hospitals, and other public infrastructure, which he said would benefit the poor.
But the former MMDA chair said he was not really eyeing any specific position in the government apart from serving as vice-president, and would gladly accept any post where he could help.
P40,000 teacher's salary
According to Gordon, the use of "mahirap (poor)" is already "panis (out of fashion)" and instead, the people should be empowered.
He reiterated the need to improve the country's deteriorating education system to enable the country to produce "smarter" citizens that could compete with neighboring countries.
He further said that through proper education the people would be given a chance to hone their skills and make them more competitive in the market.
He likewise vowed to raise the salary of teachers to P40,000 from the current P10,000 should he win in May.
"Hahanguin namin kayo sa kahirapan. Aalisin namin kayo sa putikan. Magiging marangal ang bawat Pilipino (We will lift you out of poverty. We will pull you out of the quagmire. Every Filipino will become honorable)," echoed Fernando.
Nonetheless, both leaders reminded the people that initiative and the willingness to cooperate with the government are essential to achieving progress.
A bit of theatrics allowed
Among the 5,000 people who attended the duo's three-hour proclamation rally were musician-singer-actress Aiza Seguera, Filipino comic and singing duo Moymoy Palaboy, and aspiring actor Mueggie Cobarrubios.
Fernando earlier said their team doesn't have funds to splurge on celebrities but they welcome those who would volunteer to endorse.
For a brief moment, the political stage turned into a theatrical one after performers from Marikina city sang and danced for the crowd. The appreciative audience also cheered as Fernando sang the classic plebeian song Pitong Gatang and later serenaded his wife Marikina Mayor Marides Fernando.
The stage was also filled with the tandem's tarpaulin streamers carrying the slogan "Tama na ang salita, iboto ang gagawa (Enough of talk, vote for the men of action)!"
The plaza also became a hub for street vendors who grabbed at the opportunity to earn money.
The promises of Gordon and Fernando, who called themselves "transformers" and brought along a towering Transformer dummy robot for their first campaign sortie to drive home their point, generated various reactions from the audience. Others cheered and applauded them, while some were left wanting.
A 14-year-old Cavitena who went to the rally, although she was way below the voting age, said she was still unsure if she would endorse the Gordon-Fernando team to her parents.
"Parang hindi pa po ako impressed (I don't feel impressed yet)," she said.
But those from the cities of Olongapo and Marikina, where Gordon and Fernando first honed their skills as no-nonsense mayors, thought otherwise.
Gloria Mohammed of Olongapo said she has already witnessed the leadership of Gordon up close and could vouch for his effectiveness.
"Definitely I will vote for him and Bayani, kasi magkapareho sila (because they're similar). They are teaching the people to be self-reliant and effective," she said.
Cresencia Conde, 69, echoed this, saying that in Olongapo, Gordon provided the citizens with decent living. "Malay mo, pag siya naupo, mas madagdagan pa (If he becomes president, who knows, maybe we'll have more of that)."
Rey Quebec said he was unsure if he would give Senator Gordon his vote. Nonetheless, former MMDA chairman Fernando has already won his vote. "Naniniwala ako kay Fernando. Nandito ako para sa kanya (I believe in Fernando. I'm here for him)."
But Trece Martires resident Gloria Fulgencio had a different reason for considering the duo: because what they advocate is different from the rest. "Walang mawawala kung pipili ka naman ng iba na talagang committed sa pagbabago (You don't lose anything if you chose someone different this time, someone truly committed to change)."—JV, GMANews.TV
Labels: 2010 election, bagumbayan, Bayani Fernando, Sen. Richard Gordon, transformers