Asia Broadcast Satellite To Acquire Mabuhay Satellite Corp. + Agila-2 Satellite
As
PLDT sells satellite stake
Mabuhay Satellite Corporation (MSC) and Asia Broadcast Satellite (ABS) have signed an agreement for the sale and purchase of the business of MSC. The closing of the transaction will occur upon the issuance of the necessary regulatory U.S. governmental approvals.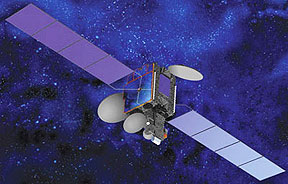 MSC's Agila-2 satellite is a Space Systems/Loral FS-1300spacecraft that was launched in Aug 1997. The satellite has a payload consisting of 24 Standard C- and 6 Extended C-band transponders covering Asia from India to Philippines, Japan to Indonesia, and a C-band spot beam over Hawaii to provide connectivity to the USA. The satellite also has 24 Ku-band transponders covering the Philippines, Coastal China, Taiwan, and Hong Kong, providing capacity for TV distribution, DTH and VSAT services. The MSC Subic Space Center is a state-of-the-art satellite communications facility in the Philippines providing full satellite operations, payload and client monitoring, tracking, telemetry and control services, and a full Network Operations Center (NOC) managed 24/7 by highly trained professionals. Mabuhay Satellite Corporation(MSC) was the first Philippine entity to own and operate a communications satellite. satnews.com
Philippine Long Distance Telephone Co. said yesterday it has agreed to sell all its 67- percent stake in Mabuhay Satellite Corp. to Asia Broadcast Holdings Ltd., a Bermuda-based company engaged in the satellite business.
"The transactions between Mabuhay Satellite and ABS involve the wholesale lease by ABS of the Agila-2 satellite from Mabuhay Satellite and, upon the satisfaction of various conditions precedent, the purchase of ABS of the business of Mabuhay Satellite," PLDT said.
Mabuhay Satellite, incorporated in November 1994, is the first Philippine company to own and operate a communications satellite.