The local navy has confirmed reports that a Chinese submarine collided with a device used by the US Navy to detect underwater threats.
A navy officer based in La Union, northern Philippines, told Gulf News in an exclusive interview that the navy has dispatched vessels to investigate the incident involving a Chinese submarine snagging a sonar array being towed US Navy vessel, USS John McCain as the American destroyer was in the vicinity of Subic Bay recently.
The incident has assumed importance as it occurred inside Philippine waters - an area where the two ships should not have been present without permission.
"We are trying to determine if the Chinese vessel is damaged and if it is necessary to provide help to them since the incident apparently took place inside our territorial waters," the official, who holds the rank of navy commander, said.
International conventions prohibit foreign vessels from venturing beyond 12 nautical miles from the territory of another country without permission.
The Filipino naval officer said the incident took place inside the area of responsibility of the navy station at Poro Point in La Union and that ships had been dispatched to investigate the event.
"We are investigating why the Chinese submarine was inside Philippine territorial waters and also why the US vessel was there in the first place," he said that he does not know of any possible reason why the American destroyer would be in Subic, a former US naval base in Olongapo.
"We do not have information on whether there is a US naval exercise in the area," he said.
Earlier, reports aired by the CNN quoted a US official as saying that the incident was an "inadvertent encounter."
Sonar arrays are devices used by surface navy ships such as destroyers to detect threats.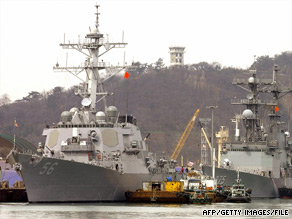 The CNN report said the US official had admitted that the array had been left damaged by the incident while the condition of the Chinese submarine was not clear.
The sonar array trails the towing vessel by several metres and only surfaces when needed. By Gilbert Felongco, Gulf News Correspondent