Justice summons Kho, Belo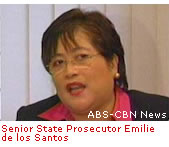 Olongapo City Acting City Prosecutor Emilie Fe de los Santos, panel head has summoned Dr. Hayden Kho, his former girlfriend Dr. Vicki Belo, and Eric Johnston Chua and Dr. Mark Herbert Rosario
By Rey E. Requejo - Manila Times
The Department of Justice has summoned Dr. Hayden Kho, his former girlfriend Dr. Vicki Belo, and two others to answer the complaint of actress Katrina Halili over the uploading of her sex video with Kho on the Internet.
Olongapo City Acting City Prosecutor Emilie Fe de los Santos, panel head, also subpoenaed Eric Johnston Chua and Dr. Mark Herbert Rosario to submit their counter-affidavits not later than June 19.
The other panel members are Senior State Prosecutor Rose Ann Elepaño-Balauag, State Prosecutors Maria Lourdes Uy, Hjilmar Quintana Jr. and Xerxes Garcia.
Halili has accused Kho and company of violating RA 9262 or An Act Defining Violence Against Women and their Children, for allegedly uploading without her permission a video recording that showed her with Kho on bed having sex.
She also met with incoming Justice Secretary Agnes Devanadera after expressing her thanks to Secretary Raul Gonzalez for ordering Kho's name to be included in the Bureau of Immigration watch list.
The National Bureau of Investigation filed charges against Kho based on the complaint of Halili, who claimed to have suffered mental and emotional distress and public ridicule due to the circulation of the sex video.
She alleged forgone revenues from television and movie projects and endorsements.
Chua earlier admitted it was Belo who ordered him to copy the sex videos from Kho's laptop.
He said Belo got his sole copy on USB and the master copy was not with him
Labels: belo, doj, hayden, Olongapo City, prosecutor