Guam & Olongapo Now Sister Cities
Guam and the City of Olongapo now have a strategic and official relationship. Guam Speaker Judith T. Won Pat, Ed.D. and Olongapo City Mayor James "Bong" Gordon, Jr. signed the Memorandum of Understanding establishing the relationship this morning at the Legislative Public Hearing Room.
"I am so excited about the future we have with Olongapo City," Senator Eddie Baza Calvo said. The senator authored Resolution No. 170-30, which allowed Guam to enter the sister-city relationship. "Not only do we have so much in common with Olongapo City, but many of our people can trace their ancestry there and to the Zambales province. This is a remarkable partnership, and one that will only strengthen our sisterhood with the Philippines."
Our two communities will use the relationship to enhance Guam's workforce, sustain economic development and promote trade. The resolution stressed the Guam military buildup and how Guam and Olongapo can help each other to maximize opportunities presented by the buildup.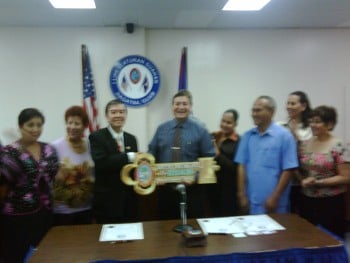 Key to the Island of Guam
Senator Calvo presented the Key to the Island of Guam shortly after the signing of the MOU to Mayor Gordon. The event marked the first time the Legislature has entered the island into a sister-city relationship, according to Speaker Won Pat.
Mayor Gordon was accompanied by Olongapo Vice Mayor Cynthia G. Cajudo, members of the city government and leaders from the Metro Olongapo Chamber of Commerce. Philippine Consul General to Guam Olivia Palala also witnessed the signing, along with Senators Tina Muna-Barnes, Eddie Baza Calvo, Jim Espaldon, Judith Guthertz, DPA, Adolpho Palacios, Telo Taitague, and Ray Tenorio.
Discussions on the sister-city relationship began in April, when Mayor Gordon visited Guam and talked to Senators Calvo, Guthertz and Rory Respicio about the matter. The three senators introduced the resolution shortly thereafter; and the Legislature passed it earlier this week.
Please call Troy Torres at 788-6009 for more information. -- pacificnewscenter.com
Labels: City Mayor James Gordon, guam, Olongapo City, Sen. Eddie Calvo, Sisterhood